Golf Caddy Assistant 1.5
For Android phones or Windows PDAs running PPC2003
You are standing on the fairway. How far is it really to the hole - is it a 6 iron or a 7 iron? Or, will my 4 iron clear that water hazard?
The pro's always know, of course. They have caddies who make copious notes about each hole, but you are probably trying to guess it from memory. Worse still, maybe that last shot was a little 'wayward' - you aren't used to approaching the green from around here!
Well, here's the answer - Golf Caddy Assistant.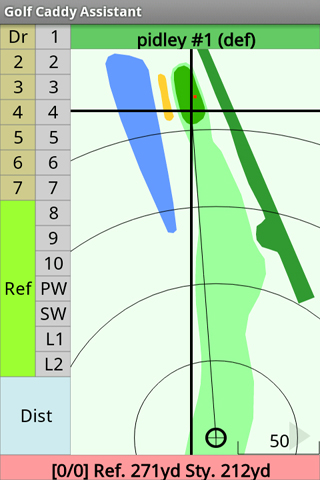 Golf Caddy Assistant uses GPS to show your position on the course at all times, relative to hazards such as water, bunkers, out of bounds and so on. It can show you how far you have come, how far it is to the green - and to any other point of interest.
Golf Caddy Assistant doesn't clutter up the screen with unnecessary details - you see straight away what is important.
Here the screen shows the approach to hole 1 - a narrow green with woods on the right and a lake and bunker on the left of the green. The last shot to where you are (the indicator at the bottom of the fairway) travelled 271 yards, and there are 212 yards left to go to the stylus or touch point on the front of the green.
Click on a club, and Golf Caddy Assistant will show you where the shot with that club would reach. (Club distances can be customised to the player).
With Golf Caddy Assistant, you can: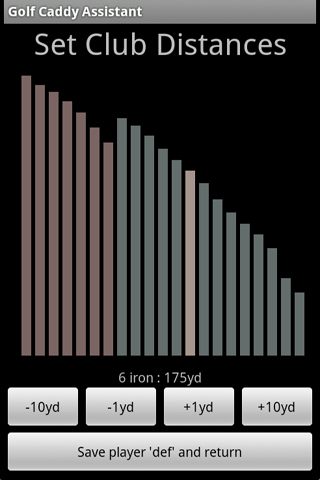 Enter as many hole features as you wish
Measure how far you can hit each club
Have Golf Caddy Assistant 'learn' your hitting distances
Ask Golf Caddy Assistant to 'suggest' a club
Add as many courses as you wish
Add as many player profiles (club hitting distances) as you wish
And with this golf caddy, you don't have give it a percentage of the prize money!
Courses
You are not limited by the courses you can download - courses are easily and quickly created.
Rather than rely on downloaded courses which may be short on information, inaccurate or out of date you can use Google Earth satellite images and our free Golf Course Editor to create courses, or you can capture information yourself from walking the course.
Better stll, you can use a combination of the two - create the course quickly from Google Earth, then update anything that may have changed since the satellite images were recorded. That way you can keep your courses accurate and up to date.
Golf Course Editor
Golf Caddy Assistant's companion is a free Windows PC application (Golf Course Editor) that allows you to import the Google Earth course information, add notes, and enhance the course information captured by Golf Caddy Assistant. Full instructions on importing Google Earth information are included in its online help.
Golf Course Editor is for PCs running Windows 2000 or later. Follow the installation process below:
Click here to download the installer
Run (double click) the downloaded file to install Golf Course Editor on your PC
Is it allowed in competitions?
That depends. Rule 14-3 on the R & A website prohibits artificial aids, but a golf club may allow such aids with a local rule if it wishes. That only applies to competitions, of course - any other time you can use what you like.
Golf Caddy Assistant is currently supported on two platforms:
Golf Caddy Assistant takes the guesswork out and leaves you free to concentrate on your game.

(c) Nightshade Arts 2012
Contact us Back to home page