Cocktails! 3.1 for Windows
Are you one of those people that has a collection of interesting bottles gathering dust in the drinks cupboard, accumulated over many Christmas's, or brought back by friends returning from exotic foreign trips, while all the time you are drinking brown ale? What will you do with them all? Well, the answer is simple, use them to make mixed drinks - cocktails.
There are hundreds, even thousands of cocktail recipies. Cocktails! contains the recipies for over one hundred of the better known cocktails, and you can add your own.
With this program, you can:
Read the recipies to learn how to mix the cocktails
Choose only those that include specific ingredients ("show me gin based drinks")
Choose only those that exclude specific ingredients ("don't show me drinks with pineapple juice")
Choose only those you can make from the ingredients you have
Find out which ingredients are best to buy to increase the number of cocktails you can make
Add new recipies
Share recipies with friends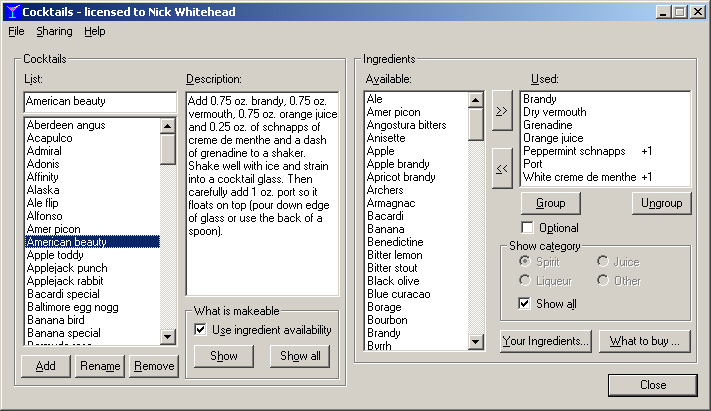 Cocktails! runs on Windows 2000 and XP. It has small memory and disk space needs.
Cocktails! is 'shareware', so click here to download V3.1 (5).
If you like it, you can then purchase and register it, unlocking its full potential. To purchase, click here. We recommend that you always 'try first' before purchase.
(c) Nightshade Software 2008
Contact us
Back to home page